realities:united | 2 x 5 (brothers) (2012)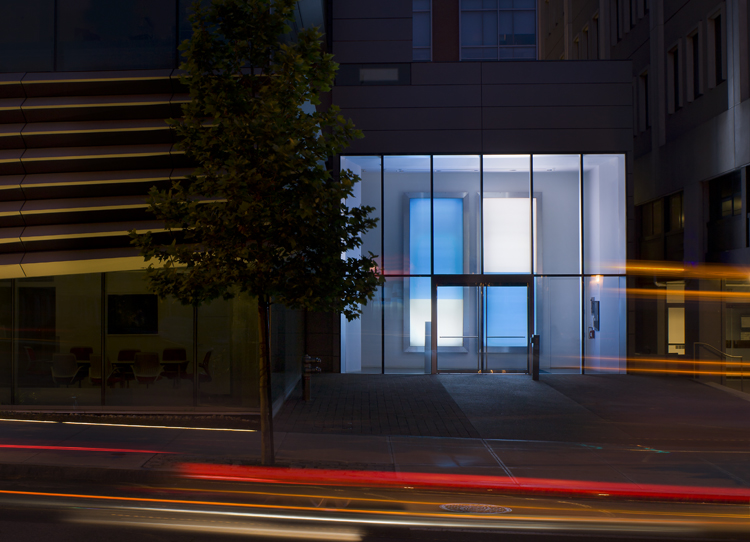 realities:united [Jan and Tim Edler]
2 x 5 (brothers), 2012
Kinetic Light Installation: aluminum, steel, glass, thermo-sublimation print on textile, fluorescent light tubes, electronics
14' x 5' each
Installed in the Perry and Marty Granoff Center for the Creative Arts, Angell Street entrance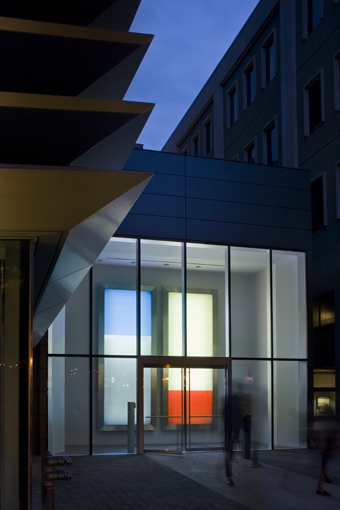 2 x 5 is a kinetic light installation created for the Angell Street entrance of the Perry and Marty Granoff Center for the Creative Arts. The building was designed by the New York-based architecture firm Diller Scofidio + Renfro. Collaboration is a central tenet for brothers Jan and Tim Edler who founded realities:united in 2000. In keeping with this ethos, 2 x 5 meshes with the architectural features of the Granoff Center without disappearing into it. 2 x 5 consists of two 14 x 5 foot light boxes that bath the class entrance in color. Monochromatic fabric circulates through the aluminum frames, a technique used for outdoor advertising. When still, the panels take on a more transcendent quality similar to Mark Rothko's abstract paintings.

realities:united is widely known for their facades that operate at the intersection of art and technology. More than just decoration, the changeable, fluid surfaces reflect the movement of the street and the city. This can be used to both formal and communicative ends, contributing to both the aesthetics and functionality of the pieces. Through 'media architecture' realities:united expands the discipline of architecture to include the social and affective aspects of being in the built-environment. Their diverse yet distinctive body of work embodies the multivocality and collectivity at the heart of the firm.

Their work is included in the collections of the Museum of Modern Art in New York, the Vitra Design Museum in Weil am Rhein, and the Museum Abteiberg in Moenchengladbach. The studio has also been featured in international exhibitions at the Art Museum Stuttgart in Germany, the Museum of Contemporary Art in Taipei, and the Swiss Architecture Museum in Basel, as well as in the Venice Biennale of Architecture in 2002, 2006, and 2008.