The Perelman Arts District
Where the Arts Happen at Brown
The Perelman Arts District
Where the Arts Happen at Brown
Highlighting arts teaching, scholarship and performance
The Perelman Arts District encompasses a geographic area that is home to Brown's primary arts spaces on the College Hill campus, and also conveys where the arts are taught, created, and performed ("where the arts happen"). Building on strategic efforts to strengthen the arts at Brown by making visible myriad arts spaces across the campus, the Perelman Arts District demonstrates that the arts are integrated into everything we do, signaling the connection between the creative and collaborative work taking place through various art forms across campus.
Markers identifying spaces within the Perelman Arts District will indicate the places where scholars and students are making creative work, conducting rigorous arts research and engaging with artists across disciplines. They also demonstrate Brown's collective investment in the arts.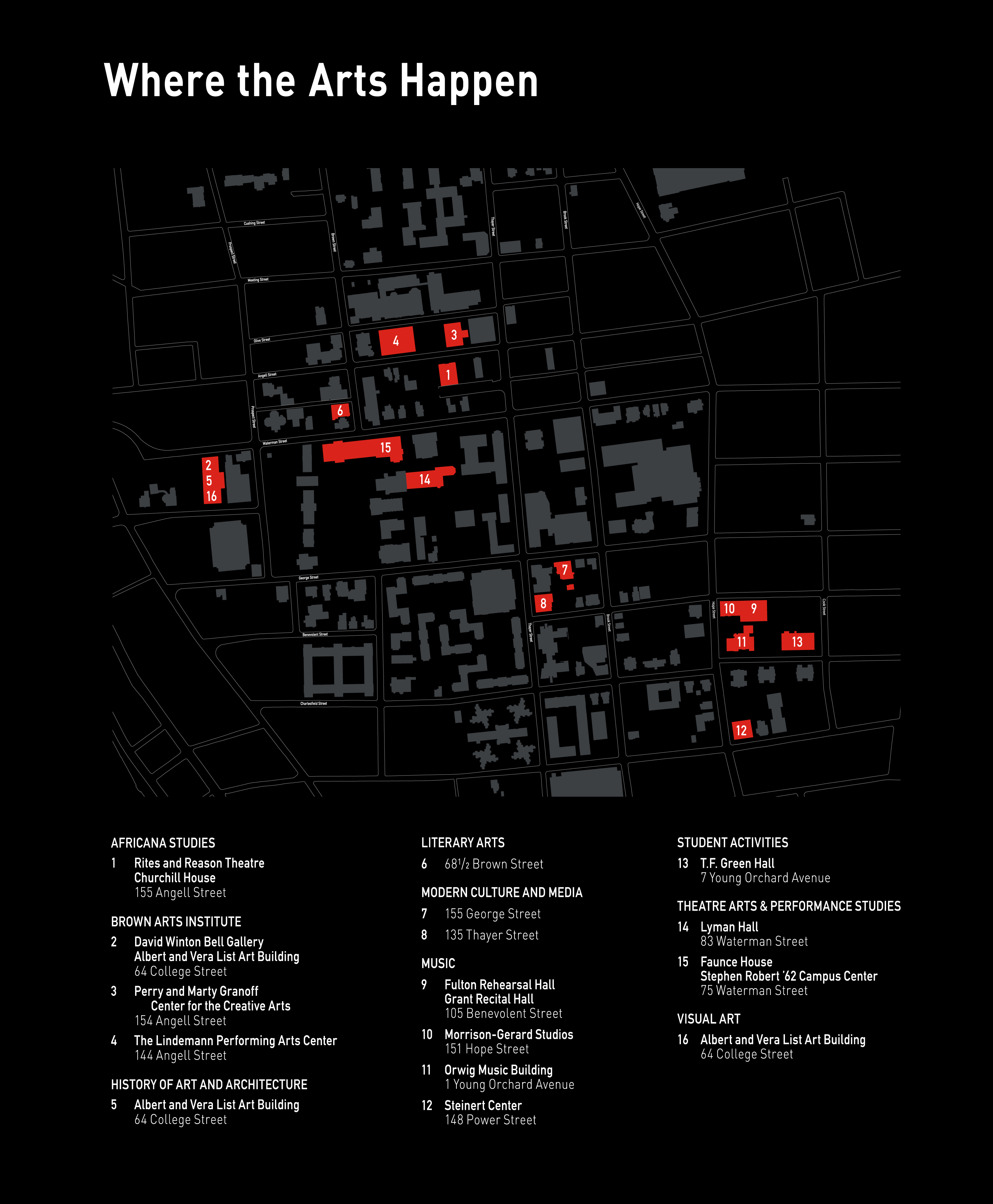 Interactive Arts District Map
History of the Arts District
Established
in 2023
, The "Ronald O. Perelman Arts District at Brown University" aligns with Brown's ambitions to become the primary destination in the world for students who want to fully integrate the arts into a complete liberal arts education. The creation of the arts district follows the University's formal launch of the Brown Arts Initiative in March 2017, to integrate the practice and study of the arts across the University. Building on decades of investment in the arts, this was followed in 2021 by the founding of the Brown Arts Institute. 
The Perelman Arts District is part the of ushering in of an exciting era for the arts at Brown. Its creation serves as a complement to efforts to elevate the University as a national leader in arts practice and scholarship. The Arts District represents the expansive physical landscape of the BAI's mission to energize and magnify the work of programs and departments in the arts across campus.