Nina Katchadourian | What I Know About Magic (2022)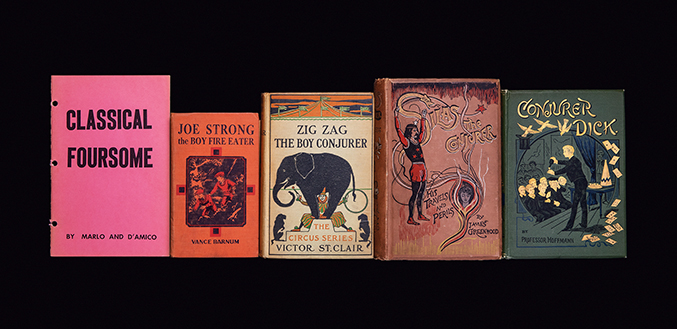 Nina Katchadourian
What I Know About Magic (2022) from the Sorted Books project (1993-)
Twelve chromogenic development prints, Percent-for-art Commission
Installed in Friedman Hall, 1st floor (rotates on view with artworks by Dave Cole, Karl Haendel, and Ruth Root)
What I Know About Magic (2022) is interdisciplinary artist Nina Katchadourian's most recent contribution to her ongoing Sorted Books project, which began in 1993. In Sorted Books, Katchadourian explores both institutional and personal libraries to create clusters of book titles that, when viewed together, form short phrases, stories, poems, or commentary. The resulting photographs ultimately serve as a portrait of the book collection or collector. Over many years, Katchadourian has explored both institutional and personal libraries, such as those of artist Isamu Noguchi, the writer William S. Burroughs, the rare book collections of the Delaware Art Museum (Delaware, MD) and the Morgan Library and Museum (New York). A monograph of the Sorted Books project was published by Chronicle Books in 2013, marking the 20th anniversary of the ongoing project. 
To create What I Know About Magic, Katchadourian made in-depth visits over the course of several years to familiarize herself with the H. Adrian Smith Collection of Conjuring and Magicana, held in the John Hay Library at Brown. One of the preeminent private collections of magic in the world, it was bequeathed to the university by Smith (Class of 1930), who performed magic to help pay for his tuition at Brown. While the Smith Magic Objects Collection includes a great variety of items, from homemade props and wands to coins and commemorative Houdini busts, Katchadourian worked with the collection's immense number of books—over 5,000—and created twenty photographs, twelve of which were chosen for display at Friedman Hall. 
Katchadourian says of What I Know About Magic: "The books in the H. Adrian Smith Collection were fascinating historically, but also aesthetically: there were thick, gilded, leather-bound volumes from the late 19th century as well as slim paper booklets from the 1940s and 50s that often provided instructions on how to perform just one trick. Magicians seem to be particularly playful in their use of language for the titles of their publications, and since my project focuses so much on language, it was utterly delightful to respond to these authors' linguistic tricks with a few of my own." 
Nina Katchadourian (b. 1968 in Stanford, CA; lives and works in Berlin and Brooklyn) is an interdisciplinary artist working across video, sound, performance, photography, sculpture, and public projects. She is also a Clinical Professor on the faculty of NYU's Gallatin School of Individualized Study. Katchadourian's work has been widely exhibited nationally and internationally, and is held in public and private collections including The Metropolitan Museum of Art, New York; the Blanton Museum of Art, Houston, TX; and the San Francisco Museum of Modern Art. Her video installation Accent Elimination (2005), was included in the  2015 Venice Biennale's Armenian Pavilion, which won the Golden Lion Prize for Best National Participation. Curiouser, a solo museum survey of her work, opened at the Blanton Museum in 2017 before traveling to Stanford's Cantor Art Center and the BYU Museum of Art. Katchadourian is an alum of Brown (1989), and graduated with a double bachelors of art with honors in Visual Arts and Literature and Society. She also taught in the Visual Arts Department at Brown between 2001–2004. This is her second public art commission for Brown; her first, Advice from a Former Student, features the voices of Brown alumni who graduated between 1939 and 2010.