Cohen Gallery is located in the Granoff Center for the Creative Arts at 154 Angell Street. During Fall 2020 Cohen Gallery is available to visitors to view through the west facing windows.
On View 
All at Once
      De Repente
Jonathan Herrera Soto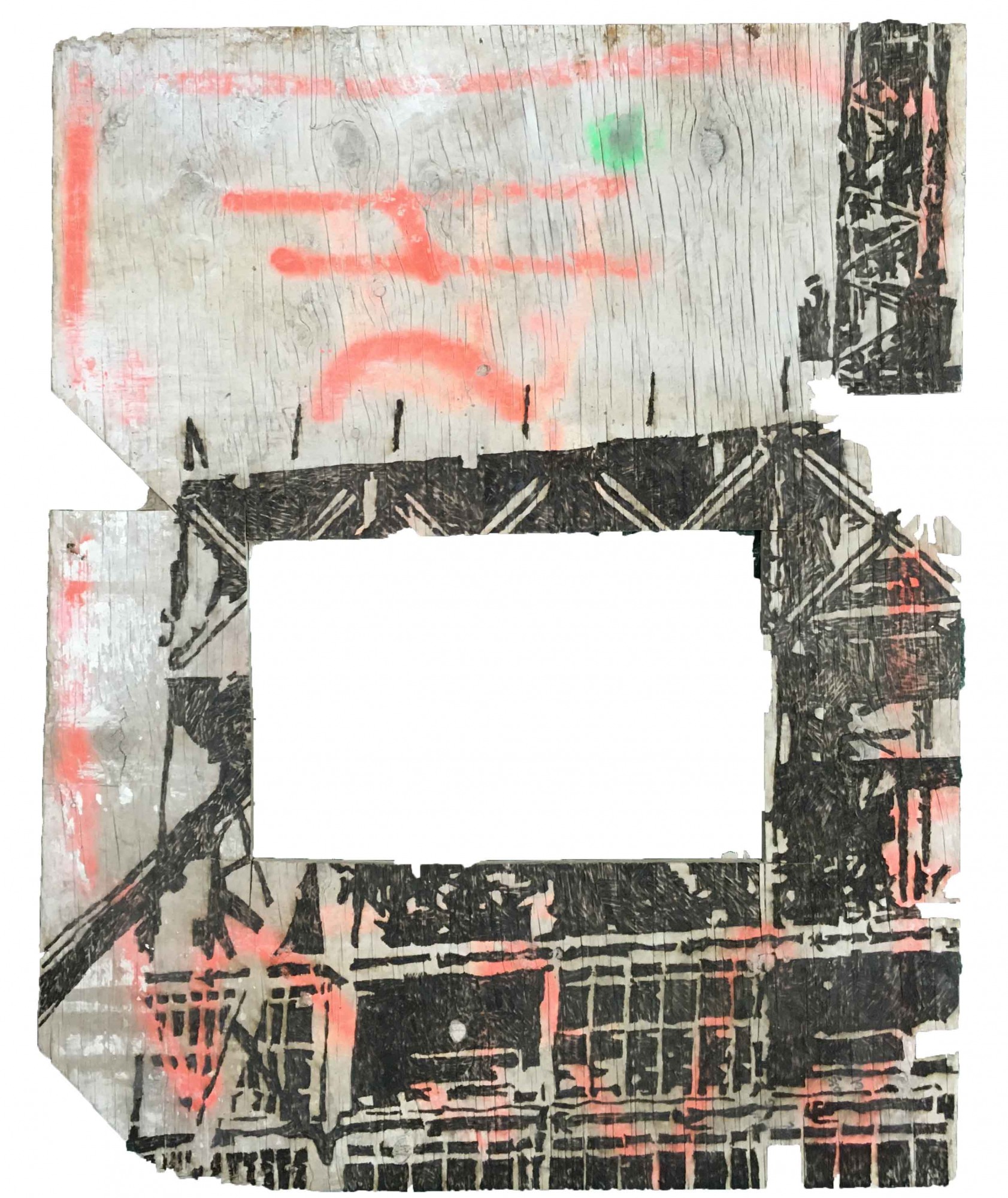 All at Once is a story of simultaneous becoming and unbecoming. 
During the pandemic, I became disconnected with institutionalized patterns of art making. No more shows, no residencies, no permanency, no frameworks. I spent the majority of this past Spring and Summer unforgetting, and tapping into ceremonies of work and labor familiar to me outside of my art making. Through a ceremony of maintenance, I created my own "residency" within the endeavor of learning a visuality of repair. This project  is an accumulation of this experience- a physical representation of learning to mend. The body of work consists of twenty five visual studies constructed with found objects. The images and text on the wooden pallets are individually burned into the flesh of the wood using a hot knife, invoking the gesture of wounding inherit in my traditional practice as a printmaker. 
All at Once incorporates materials such as wooden molding for concrete pours, segments of discarded paneling, junk tires, weathered ductwork, tattered metal tension wire cables, discarded fencing, and my own summer work clothes. Invited by the Brown Arts Initiative, I also toured the Performing Arts Center construction site across the street to collect construction debris, materials rendered disposable after use. Within the ceremony of maintenance, there is a celebration of renewed life in the re-claiming of materials. These works represent the simultaneous disposability and necessity inherent in every object of maintenance. On their way to the landfill, the reclaimed materials used in this installation are briefly held together for this moment, as buildings are, as you and I are. Moving into another Summer, as our communities begin to shift  into new patterns of relationship outside of the pandemic, I aim to hold onto what we have learned together thus far, for now. 
This project manifests on ancestral Narragansett land, and comes together with direct support from the Brown Arts Initiative, BAI Community Development Grant, Bemis Center for Creative Arts,  Jerome Hill Foundation Fellowship, and the Creative Commerce Center located in Pawtucket, RI.
On view through July 25, 2021